Main content starts here, tab to start navigating
Menus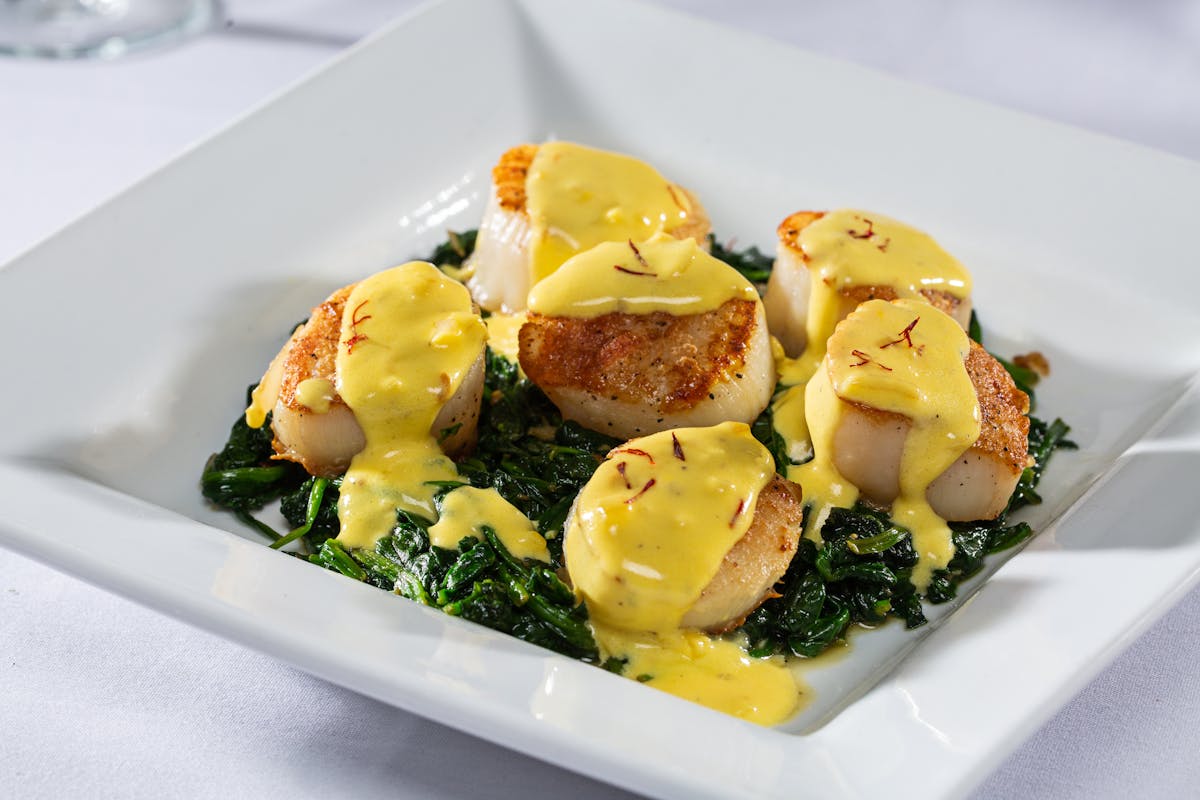 Easter Brunch Buffet
Sunday April 9th, 2023
Seating's from 9:45 to 1:45 (2 hour max)
Reservations by phone only (518) 283 - 0202
Dine In Only
Download PDF
Breakfast Items
Eggs Benedict

French Toast

Pancakes

Sausage & Bacon

Home Fries

Assorted Breads, Pastries & Fresh Fruit
Salad Bar
Fresh Tomato & Mozzarella

Fresh Mozzarella Cheese and Tomatoes Finished with EVOO and Basil

Spinach

Apples, Craisin, Grape Tomatoes, Red Onion, and Walnuts with Cheddar Cheese Finished with a Raspberry Vinaigrette and Honey

Caesar

Romaine Lettuce with House Made Caesar Dressing, Assorted Shaved Cheese, and Croutons

Antipasto Carrozella

Roasted Peppers, Artichoke Hearts, and Grilled Mushrooms

Seafood Bowtie

Shrimp and Crabmeat Tossed with Diced Vegetables, Mayo, Seasonings and Bowtie Pasta (Paul's Specialty!)
Spectacular Viennese Dessert Table
Strawberry Cream Pie

Chocolate Cream Pie

Banana Cream Pie

Lemon Meringue Pie

7 Layer Chocolate Cake

Mini Eclairs

Mini Cheesecakes

Mini Cream Puffs

Mini Carrot Cake

Mini Fudge Fancies

Sugar Cookies

& More!
Omelet Station
Farm Fresh Eggs prepared by our Culinary Team with your choice of Ham, Cheddar Cheese, Peppers, Onions, Mushrooms, Shrimp, Broccoli, Bacon, Tomatoes & More...
Carving Station
Chef's Selection of Beef

Accompanied with Horseradish Cream Sauce and Port Beef Demi Glaze

Bourbon Honey Glazed Baked Ham
Lunch Items
Pollo alla Romano

Battered Dipped Breast of Chicken Topped with Prosciutto and Mozzarella Cheese Finished in a White Wine Cream Sauce with Fresh Tomatoes, Diced Spinach and Basil

Haddock Livornese

Baked Haddock Finished with a Fresh Tomato Marinara Sauce with Onions, Capers, Kalamata Olives, Fresh Lemon, Thyme and Oregano

Herb Roasted Potatoes

Herb Roasted Potatoes topped with Crumb and Parmesan Cheese

Chef's Choice Vegetable

Pasta Marinara

Penne Ziti Regatta Pasta Tossed with Pan Fresh Marinara Sauce with Romano Cheese

Mezza Utica Riggies

Sauteed Hot Cherry Peppers in Marinara Sauce Finished with a Touch of Cream and Served over Rigatoni

Asparagus & Mushroom Risotto

Fresh Asparagus and Chef's Blend of Mushrooms Finished in a White Wine Sauce with Romano and Parmesan Cheeses
Beverages
Assortment of Juice, Coffee, and Hot Tea Included

Unlimited Mimosas and Bloody Marys

Must by 21 years or older Available starting at 10:00am Unlimited for 2 hours

$7 per person
Pricing
Ages 13 & Up

$48 per person

Ages 6-12 yrs

$21 per person

Ages 5 and Under

free!
Easter Dinner Menu of 2023!
Three Course Holiday Menu
Incudes an Appetizer, Salad, and an Entrée.
Appetizers
Fungi RiPieni Di Salsiccia

Mushroom Caps Stuffed with Sausage, Red & Green Bell Peppers and Shallot Baked in a Roasted Garlic White Wine Sauce and Topped with Mozzarella Cheese

Polpettine

A Duet of House Made 2oz. Meatballs Accompanied with a Chilled Creamy Herb Ricotta Cheese

Bruschetta

Grilled Italian Bread Topped with Fresh Tomatoes and Basil

Cappesante Auvolto con Pancetta

Scallops Wrapped in Bacon, Glazed with a Honey Dijon

Gamberi Cocktail

A Trio of Peeled and Chilled Jumbo Shrimp, Served with House Made Cocktail Sauce and Lemon Wedge
Insalata
Insalata di Casa

Mixture of Greens Topped with Tomatoes, Cucumbers, Olives with Shredded Carrot and Radish Served with House Italian Vinaigrette or Blue Cheese

Insalata Caesar

Fresh Romaine Hearts Tossed with House Made Dressing, Topped with Garlic Crostini's, and a Blend of Asiago, Parmigiana and Romano Cheese
Pesce Entrees
Served with your choice of Pasta del Giorno with Tomato Sauce or Italian Style Potatoes
Salmone alla Picata

Baked Filet of Salmon Served over Sautéed Spinach, Finished in a White Wine Lemon Caper Sauce with Artichokes

$37

Zuppa di Pesce

Assortment of Clams, Mussels, Shrimp, Scallops, Calamari, Haddock and Lobster Tail, Simmered in a Hot or Mild Marinara Sauce

$48

Twin Lobster Tails

Twin 4oz. Broiled Lobster Tails, Served with Drawn Butter

$44
Vitello Entrees
Served with your choice of Pasta del Giorno with Tomato Sauce or Italian Style Potatoes
Scallopini alla Carrozzella

Batter Dipped Medallions of Veal Sautéed with Mushrooms and Prosciutto, Finished in a Cream Marinara Sauce with Fresh Mozzarella Cheese

$39

Scallopini alla Marsala

Medallions of Veal Sautéed with Mushrooms and a Finished in a Dry Florio Marsala Wine Sauce

$37

Cotoletta alla Sorento

Lightly Breaded Veal Cutlet Layered with Eggplant Baked with Marinara Sauce, Romano and Mozzarella Cheese

$39
Pollo Entrees
Served with your choice of Pasta del Giorno with Tomato Sauce or Italian Style Potatoes
Pollo alla Parmigiana

Breaded Breast of Chicken Topped with Tomato Sauce and Mozzarella Cheese

$35

Pollo Roccolanna

Breaded Breast of Chicken Stuffed with Ricotta and Spinach Baked in Marinara Sauce Topped with Romano and Mozzarella Cheese

$36

Pollo Romano

Batter Dipped Breast of Chicken Topped with Prosciutto and Mozzarella Cheese Finished in a White Wine Cream Sauce with Fresh Tomatoes, Diced Spinach and Basil

$38
Pasta E' Forno
Tortellini con Pollo Florentine

Tender Chunks of Chicken Sauteed with Bacon, Fresh Diced Tomatoes, and Spinach Finished in a White Wine Roasted Garlic Sauce Served over Cheese Filled Tortellini

$34

Fettuccini con Alfredo del Mare

Sautéed Shrimp, Scallops and Crabmeat Tossed in Fresh Cream and Romano Cheese

$39

Ravioli di Aragosta

Maine Lobster Ravioli, Tossed with a Basil Cognac Lobster Cream Sauce, Topped with a Duet of Shrimp

$44

Melanzana Rollatini

Batter Dipped and Fried Eggplant, Rolled with Ricotta and Spinach, Baked in Marinara Sauce, Romano and Mozzarella Cheeses Served with your choice of Ziti Marinara or Italian Style Potatoes

$31
Manzo
Served with Potato Del Giorno
Surf E' Turf Special

6oz. Filet Mignon Delicately Seasoned and Char-Broiled, Accompanied with a 4oz Brazilian Lobster Tail

$49

Bistecca ai Ferri

12oz. Boneless New York Strip Char-Broiled to Perfection

$41

Delmonico

14 – 16 oz. Char-Grilled Ribeye Topped with Roasted Garlic Herb Compound Butter

$45
Dinner Specials
For the Week of March 25th 2023 to March 31st 2023
Featured Appetizers
Capasante Al Pesto

Pan Seared Sea Scallops Served Over Fresh Arugula, Diced Tomato, and Crispy Bacon Bits Dressed with a Citrus Vinaigrette.

$12
Entrée Specials
Bistecca di Pesce Spada Alla Bouna Vista

Swordfish Layered with Sliced Tomato, Green Bell Pepper and Red Onion Baked and Finished in a Roasted Garlic White Wine Sauce Served over House Risotto

$27

Pollo Parmigiana Alfredo

Breaded Breast of Chicken Topped with Mozzarella and Romano Cheese Baked in a Fresh Cream Sauce Served Over a Bed of Fettuccini Alfredo

$27
Dessert and Drink Specials
Chateau Ste Michelle Dry Riesling Columbia Valley

Crisp Apple and White Peach Aromas and Flavors with Subtle Mineral Notes

$24
Signature Fried Calamari
Classic Frito

Fried Calamari Served with Fresh Lemon and Marinara Sauce

$15

AIOLI AL LIMONE

Fried Calamari Tossed with Arugula, Grape Tomatoes and Banana Peppers, Dressed with a Spicy Lemon Aioli

$17

BALSAMIC

Fried Calamari Tossed with Sliced Hot Peppers and Pepperoncini's Dressed in a Sweet Balsamic Glaze

$17
Appetizers
ASPARAGUS FRITO

Fresh Asparagus Rolled with Prosciutto and Mozzarella Cheese, Fried and Finished with Garlic Butter

$10

POLPETTINE

Homemade Mini Meatballs Baked in Marinara Sauce with Romano and Mozzarella Cheese, Accompanied with Garlic Bread

$11

ANTIPASTO CALDO

Shrimp Scampi Style, Clams Casino, Stuffed Mushroom Caps, Eggplant Rolled with Prosciutto and Fontina Cheese, Roasted Peppers, Fresh Broccoli, and Fried Asparagus

$24

FUNGI RIPIENO

Mushroom Caps Stuffed with Seafood, Topped with Mozzarella Baked in Garlic Butter

$10

BRUSCHETTA

Grilled Italian Bread Topped with Fresh Tomatoes and Basil

$9

ZUPPA DI VONGOLE

Rhode Island Littlenecks Simmered in Hot or Mild Marinara Sauce

$18

gluten free

Tortellini Stracciatella

Meat Filled Tortellini and Spinach, Served in a Rich Chicken Broth with Romano Cheese and Egg Drop

$8

PASTA É FAGIOLO

Spicy Tomato Base Soup with Pasta, White Beans, Pancetta and Romano Cheese

$8

Insalata Caesar

Fresh Romaine Hearts Tossed with House Made Dressing, Topped with Garlic Crostini's, and a Blend of Asiago, Parmigiana and Romano Cheese

$10

Antipasto di Casa

Italian Deli Meats and Assorted Cheeses with Mixed Greens, Grape Tomatoes, Cucumbers, Fire Roasted Peppers, Assorted Olives & Artichoke Hearts, Served with House Italian Vinaigrette on the Side

large $16

Large $16

Pizza di Mare

Topped with Shrimp, Scallops and Crab Meat, on a White Pizza with Butter, Garlic, Mozzarella Cheese and Herbs

$19
Piatti di Pasta della Casa
Angel Hair Pasta, Gluten Free Pasta, and Tortellini Add $4.00
Fettuccini con Alfredo del Mare

Sautéed Shrimp, Scallops and Crabmeat Tossed in Fresh Cream and Romano Cheese

$30

Linguine Alla Pescatore

Clams, Mussels, Calamari, Shrimp, and Scallops in a Marinara Sauce

$31

Fettuccine con Pollo Bianco Verde

Battered Dipped Breast of Chicken Sautéed with Broccoli and Cauliflower Finished in a Marinara Cream Sauce and Topped with Mozzarella Cheese

$25

Penne Ziti Regata Alla Michelina

Shrimp and Crabmeat Sautéed with Onions and Finished in a Pink Cream Sauce, Served over Penne Pasta

$29

Ravioli di Aragosta

Maine Lobster Ravioli, Tossed with a Basil Cognac Lobster Cream Sauce, Topped with a Duet of Shrimp

$35

Tortellini alla Barese

Meat Filled Tortellini Sautéed with Hot Italian Sausage, Broccoli Rabe, Fire Roasted Peppers, EVOO and Red Chilli Flakes

$26
Vitello
"Veal"
Served with your choice of Pasta del Giorno with Tomato Sauce or Italian Style Potatoes
Cotoletta alla Parmigiana

Lightly Breaded Veal Cutlet Baked with Tomato Sauce and Mozzarella Cheese

$28

Scallopini alla Marsala

Medallions of Veal Sautéed with Mushrooms and Finished in a Dry Florio Marsala Wine Sauce

$28

Scallopini alla Francese

Batter Dipped Medallions of Veal, Finished in a White Wine Lemon Garlic Sauce, Served over Sautéed Spinach

$30

Scallopini Capriccio

Pan Seared Medallions of Veal Topped with Prosciutto and Fontina Cheese, Finished in a White Wine Sauce with Button Mushrooms

$29

Scallopini alla Carrozzella

Batter Dipped Medallions of Veal Sautéed with Mushrooms and Prosciutto, Finished in a Cream Marinara Sauce with Fresh Mozzarella Cheese

$30
Al Forno
"Baked"
Lasagna della Casa

Lasagna Noodles Layered with Ground Beef, Italian Sausage, Ricotta, Romano, and Mozzarella Cheese, Baked in a Tomato Sauce

$21

Melanzana Rollatini

Batter Dipped and Fried Eggplant, Rolled with Ricotta and Spinach, Baked in Marinara Sauce, Romano and Mozzarella Cheeses Served with your choice of Pasta Marinara or Italian Style Potatoes

$21

Melanzana alla Parmigiana

Batter Dipped and Fried Eggplant Layered with Romano and Mozzarella Cheeses with Marinara Sauce Served with your choice of Pasta Marinara or Italian Style Potatoes

$22
Risotto
Risotto Di Mare

Lobster, Shrimp, Scallops, Clams and Mussels, Sautéed with Fresh Tomatoes and Herbs, Finished in a White Wine Sauce

$33

Risotto Pollo al Pesto

Tender Chunks of Chicken, Sautéed with Button Mushrooms, Sun-Dried Tomatoes, and Artichoke Hearts, Finished in a Fresh Basil Pesto Sauce

$26

gluten free
Pollo
"Chicken"
Served with Pasta del Giorno with Tomato Sauce or Italian Style Potatoes
Pollo alla Parmigiana

Breaded Breast of Chicken, Topped with Tomato Sauce and Mozzarella Cheese

$26

Pollo alla Romano

Batter Dipped Breast of Chicken Topped with Prosciutto and Mozzarella Cheese, Finished in a White Wine Cream Sauce with Fresh Tomatoes, Diced Spinach, and Basil

$29

Pollo alla Milanese

Breast of Chicken Breaded, Fried and Topped with Freshly Sautéed Broccoli in a Lemon Butter Sauce

$28

Pollo alla Supreme

Batter Dipped Breast of Chicken Topped with Smoked Mozzarella Cheese, Sautéed with Shallots and Crab Meat Served with Steamed Asparagus and Finished with Cream

$31

Pollo Grigliato alla Parmigiana

Grilled Breast of Chicken Topped with Tomato Sauce and Mozzarella Cheese

$27
Pesce
"Fish"
Served with your choice of Pasta Marinara or Italian Style Potatoes
Zuppa di Pesce

Assortment of Clams, Mussels, Shrimp, Scallops, Calamari, Haddock and Lobster Tail, Simmered in a Hot or Mild Marinara Sauce

$42

gluten free

Salmone alla Picata

Baked Filet of Salmon Served over Sautéed Spinach, Finished in a White Wine Lemon Caper Sauce with Artichokes

$28

Eglefino e' Gamberi con Crema di Pancetta al Pomodoro

Fresh Filet of Haddock Accompanied with a Duet of Shrimp Finished in a Bacon Tomato Cream Sauce and Topped with Fresh Scallions

$28
Manzo
"Steak"
Served with Patata del Giorno
Signature Preparations

Preparations are not prepared Gluten Free

Vintage Port Demi-Glace $5

Cognac Peppercorn $5

Gorgonzola with Chianti Cream $8

Filleto ai Ferri

8 oz. Classic Filet Mignon Delicately Seasoned and Char-Broiled

$39

gluten free

Bistecca ai Ferri

12 oz. Boneless New York Strip CharBroiled to Perfection

$32

gluten free

Terra e' Mare Options

Select one of our signature surf options to accompany your steak selection

Add a Trio of Broiled U-15 Shrimp $8

Add a 6oz. Brazilian Lobster Tail $18
**All entrees served with Garden Salad with House Dressing; Bleu Cheese add $1.50, Caesar add $3.00**
SUBSTITUTIONS/SPECIAL REQUESTS: may incur an additional charge
Additional Sides
Asparagus

Grilled, Sautéed or Steamed

Small $5.50

Large $11

Broccoli

Sautéed or Steamed

Small $4

Large $8

Mushrooms

Sautéed in Oil and Garlic

Small $4

Large $8

Mixed Vegetables

Sautéed with Oil and Garlic

Small $5

Large $10

Spinach

Sautéed in Oil and Garlic

Small $4

Large $8

Meatballs or Sausage

2 Pieces

$6.50
Dessert
Prices subject to change
New York Style Cheesecake

House Made Classic New York Style Cheesecake Graham cracker crust, Philly cream cheese, sour cream vanilla, and lemon flavor

$8

Chocolate Mousse

House Made Chocolate Mousse with an Oreo Cracker Crust

$7

Cannoli

Crispy Pastry Shell Filled with House Made Sweet Galliano Amaretto Flavoured Ricotta Filling

$5

Tiramisu

House Made Tiramisu: Ladyfingers Soaked in Espresso, Layered with a Whipped Mascarpone Cheese and Topped with Shaved Chocolate

$8.50

High Peanut Butter Pie

Oreo Crumb Crust, Peanut Butter Filling with Caramel and Chocolate Chips, Topped with Peanut Butter Cups and Chocolate

$9

Italian Rainbow Cake

Three Colorful Sponge Cake Layers Filled with Sweet Raspberry Jam and Almond Marzipan, Topped with Decadent Chocolate Icing and Chocolate Sprinkles

$8

Lemon Mascarpone Cake

Lemon Cake Filled with a Lemon Flavoured Mascarpone Cream Cheese, Topped with Lemon Shavings

$7

Crème Brule

House Made Rich Vanilla Custard base, Topped with a Layer of Hardened Caramelized Sugar

$7

Carrot Cake

Three layer Carrot Cake with Cream Cheese Filling, Sliced Walnuts and Golden Raisins

$7

Outrageous Chocolate Cake

3 Layers of Chocolate Cake Filled with a Chocolate Filling

$7
Vegan Antipasti e Insalata
Bruschetta

Grilled Italian Bread topped with fresh tomatoes and basil.

$10

Insalata di Pomodori e' Cetrioli

Grape Tomatoes, Cucumbers, and Red Onion dressed with Fresh Garlic, Basil, Italian Herbs, EVOO

$10

Insalata di Rucola e' Mele

Arugula, Sliced Apples, Craisins, Red Onion, Grape Tomatoes, Walnuts, Honey, EVOO and Lemon

$11
Vegan Entrees
Accompanied by a House Salad with House Made Italian Dressing
Bistecca di Cavolfiore

Pan Seared Cauliflower, Topped with Roasted Tomatoes and Fresh Basil Pesto, Accompanied with a Pea Risotto

$22

Penne con Rabe

Penne Ziti Regata Sautéed with EVOO, Garlic, Broccoli Rabe

$22

Gnocchi con Scarola

Escarole and White Beans Sauteed with EVOO and Garlic, Served over Soft Potato Gnocchi Pasta

$22
Vegetarian Antipasti e Insalata
Caprese con Bufala Mozzarella

Vine Ripe Tomatoes, Buffalo Mozzarella Cheese, Fired Roasted Peppers topped with Sliced Garlic, Basil, EVOO and Balsamic

$11

Insalata di Spinaci e' Rucola

Fresh Spinach and Arugula Topped with Sliced Apples, Craisins, Red Onion, Grape Tomatoes, Honey, Cheddar Cheese, and Walnuts, Served with a Raspberry Vinaigrette

$11
Vegetarian Entrees
Accompanied by a House Salad with House Made Italian Dressing (Balsamic Vinaigrette). Bleu cheese add $1.25, Side Caesar add $3.00
Risotto con Verdure Grigliate

Fresh Grilled Asparagus, Red Bell Peppers, Brussel Sprouts, Green and Yellow Squash with EVOO and Garlic, Served over House Risotto

$23

Fettuccini Primavera Alfredo

Fresh Seasonal Vegetables Sautéed with Heavy Cream and Romano Cheese, Served over Fettuccini Pasta.

$23

Melanzana Florentine

Batter Dipped and Fried Eggplant Layered with Marscapone Cheese, Spinach, Basil and Marinara Sauce baked with Fresh Mozzarella Cheese, and Accompanied with Penne Ziti Regatta with Marinara Sauce.

$23
Gluten Free Entrees
Accompanied by a House Salad with House Made Italian Dressing (Balsamic Vinaigrette). Bleu cheese add $1.25
GF Penne Con Pollo Al Limone Pepe

Broccoli, Mushrooms, and Sun-Dried Tomatoes Sauteed with Oil and Garlic and Topped with Lemon Pepper Grilled Chicken Served over Gluten Free Ziti

$27

GF Pollo Marsala

Pan Seared Breast of Chicken Sautéed with Button Mushrooms and Finished in a Dry Florio Marsala Wine Sauce, served with Gluten Free Penne or Potato of the Day.

$27

GF Pollo e' Gamberi Risotto

Tender Chunks of Chicken and Shrimp, Finished in a Bacon, Tomato and Scallion Cream Sauce and served over House Risotto.

$27
Piatti Dei Bambino
Children's Portions under age 12
Chicken Parmigiana with Pasta

Breaded Breast of Chicken Topped with Tomato Sauce and Mozzarella Cheese, Served with Choice of Pasta

$9

Meat & Cheese Lasagna

Lasagna Noodles Layered with Ground Beef, Italian Sausage, Ricotta, Romano, and Mozzarella Cheese, Baked in a Tomato Sauce

$8

Cheese Filled Ravioli

Cheese Filled Pasta with Marinara and Mozzarella Cheese

$7

Spaghetti or Ziti with Meatballs or Sausage

$8

Fettuccini Alfredo

Fresh Cream with Romano Cheese, Tossed with Fettuccini Pasta

$8

Baked Ziti

Penne ziti regatta pasta with ricotta, romano cheese, and marinara sauce, baked with mozzarella cheese

$7

Chicken Fingers with French Fries

House made chicken tenders with seasoned french fries

$8

Haddock Broiled or Parmigiana Style with Pasta

$9
Wine List
NOT AVAILABLE FOR TAKE-OUT OR DELIVERY
Download PDF
Sparkling Wines and Champagnes
12/13 Freixenet Cordon Negro Brut (Spain)

#1 Sparkling Wine of the world. Crisp while balanced for a soft finish with hints of pear and bright citrus

Split (187mL) $8.50

Bottle $27

14/15 Mionetto Prosecco Gold Label (Italy)

Very Dry, fresh, and light with a bouquet of apple, lemon, and nutty flavors

Split (187mL) $9

Bottle $27

16 Martini & Rossi Asti (Italy)

Made from Moscato Bianco grapes of Northern Italy giving it a sweet profile of tangerine, honeysuckle, vanilla, and honey

Bottle $32

17/18 Moet & Chandon "White Star" Extra Dry (France)

Made from Chardonnay, Pinot Noir, and Pinot Meunier grapes giving it a crisp citrus flavor with a hint of ginger

Split (375mL) $50

Bottle $100

19 Cuvee Dom Perignon (France)

The world's most famous luxury cuvee'-- rich and flavorful, dry and impeccable balanced with pinpoint effervescence

Bottle $300
White Wines
21 Sauvignon Blanc, Brancott (Marlboro, New Zealand)

Perfectly balanced, fruit-forward wine with hints of pineapple and grapefruit

Bottle $30

23 Bianco, Villa Antinori, Toscano (Tuscany, Italy)

70% Trebbiano and Malvasia, 30% Chardonnay Toscana and Pinot Grigio, smooth with hints of candied fruits and a floral finish

Bottle $25

24 Pinot Grigio "Atesino", Cavit (Tre Venezie, Italy)

A specialty of Northern Italy... very dry and elegant with gentle spice in the aroma

Bottle $20

25 Pinot Grigio, Santa Margherita (Alto Adige, Italy)

A dry, medium-bodied white; fresh and attractive with a good backbone of acidity

Bottle $48

26 Orvieto Classico, Antinori, Campogrande (Umbria, Italy)

Blend of Procanico, Grechetto, Verdello, Drupeggio and Malvasia grapes with citrus tones and soft pear finish

Bottle $24

27 Chardonnay, J. Lohr, "Arroyo Vista" (California)

Aromas of white flowers and lime custard coupled with flavors of honey and vanilla with a buttery finish

Glass (6oz) $9.50

Bottle $30

28 Chardonnay, Ferrari Carano, Tre Terre (Russian River Valley)

A bold full-bodied white, delicately balanced with oaky vanilla, butterscotch, apples, citrus, and fig flavors

Bottle $44

29 Chardonnay, Belle Vigne Chardonnay (Napa Valley)

Bone dry and full-bodied with notes of creamy peach, vanilla, and oak

Bottle $30

31 Rose, Fleur de Prairie

Led by cherry and grapefruit flavors, it's a silky-textured, medium-bodied wine, with hints of tangy berries and citrus

Bottle $30
House Wine & Specialties
32 Chardonnay, Century CEllars

Glass (6oz) $8

Bottle $23

1/2 Carafe $15

Full Carafe $28

33 Sauvignon Blanc, Marlborough Vines

Glass (6oz) $8

Bottle $23

1/2 Carafe $15

Full Carafe $28

Pinot Grigio, Bella Sera

Glass (6oz) $8

1/2 Carafe $15

Full Carafe $28

34 Riesling, Chateau Ste. Michelle

Semi-Dry; a delicate floral aroma, abundant fruit and crisp finish.

Glass (6oz) $9

Bottle $24

1/2 Carafe $16

Full Carafe $30

35 Moscato, Riunite

Glass (6oz) $8

Bottle $23

1/2 Carafe $15

Full Carafe $28

36 Rosato Toscano, Lornano le Macchio

Glass (6oz) $8

1/2 Carafe $15

Full Carafe $28

White Zinfandel, Sutter Home

Glass (6oz) $8

1/2 Carafe $15

Full Carafe $28

38 Chianti, L'oca Ciuca

Glass (6oz) $8

Bottle $23

1/2 Carafe $15

Full Carafe $28

39 Cabernet Sauvignon, Drawbridge

Glass (6oz) $8

Bottle $23

1/2 Carafe $15

Full Carafe $28

Merlot, Canyon Road

Glass (6oz) $8

1/2 Carafe $15

Full Carafe $28

40 Pinot Noir, Purple Owl

Glass (6oz) $8

Bottle $23

1/2 Carafe $15

Full Carafe $28

41 Primativo, Pillastro

Glass (6oz) $8

Bottle $23

1/2 Carafe $15

Full Carafe $28

Lambrusco, Riunite

Glass (6oz) $8

1/2 Carafe $15

Full Carafe $28

Red Sangria

Glass $8

1/2 Carafe $16

Full Carafe $32
Red Wines
44 Chianti Classico, Ruffino Aziano (Tuscany, Italy)

Notes of sweet violet, red berries, and cherries with slightly spicy undertones and a long complex finish revealing hints of rosemary and tobacco

Glass (6oz) $10

Bottle $33

45 Chianti, DaVinci Riserva (Tuscany, Italy)

100% Sangiovese, matured in French oak; Balanced combination of dark cherry, vanilla, and cinnamon

Bottle $38

46 Chianti Classico, "Riserva Ducale Gold", Ruffino (Tuscany, Italy)

Among Italy's finest reds; Full-bodied, with notes of cherries, rosemary, and thyme with a soft finish of plums and nutmeg

Bottle $66

49 Corvina, Luigi Righetti Valpolicella Campolietti Ripasso (Veneto, Italy)

A baby Amarone, known as the Italian Pinot Noir, hints of soft plums coupled with almonds

Bottle $34

50 Brunello di Montalcino, Castello Banfi (Tuscany, Italy)

Full-bodied with nose of berry and spice, yet soft and velvety. Recalling flavors of licorice and spices

Bottle $120

52 Pinot Noir, Mac Murray (Central Coast, California)

Distinctive cherry and strawberry flavors accentuated by sweet vanilla notes and spice

Glass (6oz) $10

Bottle $31

53 Pinot Noir, Wild Horse (Central Coast, California)

Aromas of black cherry, rosewater, and cinnamon are followed by a silky, smooth finish

Bottle $38

54 Red Zinfandel, Terra D'oro (Amador County, California)

Classic Zinfandel, with dark berry fruit, distinctive Shenendoah spice, and beautiful balance

Glass (6oz) $10

Bottle $31

56 Petite Syrah, Stags Leap Winery (Napa Valley, California)

Very full-bodied red with rich tannins, outstanding fruit, and round finish

Bottle $62

57 Merlot, Blackstone(Sonoma Valley, California)

Rich with cherry and blackberry fruit tones with plum and sweet oak supported by soft but noted tannins

Glass (6oz) $9

Bottle $27

61 Merlot, Nickel & Nickel, Harris Vineyard (Napa Valley, California)

Aged in French oak, balanced and complex with notes of plum, earth, and cedar with soft, round tannins

Bottle $82

62 Malbec, Belasco De Baquedano, Llama Old Vine (Mendoza, Argentina)

Rich black berries, ripe plum, and robust spices

Glass (6oz) $9

Bottle $29

63 Super Tuscan, Monte Antico Rosso Toscano (Tuscany, Italy)

Medium-bodied blend of 85% Sangiovese, 10% Cabernet Sauvignon and 5% Merlot, spicy notes of licorice and black cherries with an earthy finish

Bottle $25

65 Super Tuscan, Ruffino Modus (Tuscany, Italy)

Blend of 50% Sangiovese and equal parts of Merlot and Cabernet Sauvignon to create a rich and smooth balance with cherry and blackberry notes and a soft vanilla finish

Bottle $42

66 Meritage, Apothic Red (Modesto, California)

A Dark Red Blend of Zinfandel, Smooth Merlot, Syrah and Cabernet Sauvignon with a hint of Vanilla and Mocha

Glass (6oz) $8.50

Bottle $27

69 Barolo, Michele Chiarlo (Piedmont, Italy)

A rich, robustly full-bodied wine with a deep, penetrating bouquet and velvety texture

Bottle $78

70 Cabernet Sauvignon, Hess (Napa Valley, California)

Aged in new French oak, with soft notes of blackberry and sweet molasses and a soft chocolaty finish

Bottle $32

71 Cabernet Sauvignon, Republique (Paso Robles, California)

Aged in American and French Oak with notes of black currant, plum, and hints of smoke

Glass (6oz) $9

Bottle $27

73 Cabernet Sauvignon, Sequoia Grove (Napa Valley, California)

Aromas of ripe cherry and blackberry with a bit of mocha and cocoa. The fruit intertwines lovingly with the oak, hints of clove, black pepper, and spice with soft and supple tannins creating an endless finish

Bottle $72

74 Campofiorin Rosso Del Veronese, "Ripasso" (Veneto, Italy)

Made from Corvina, Rondiella, and Molinara grapes capturing baked cherries and plum flavors with a hint of vanilla and cinnamon

Bottle $29

76 Amarone, Capitel De Roari Luigi Righetti (Veneto, Italy)

An excellent vintage; ripe, rich, and smoky with spicy fruit and chocolaty flavors

Bottle $62
Beer List
NOT AVAILABLE FOR TAKE-OUT OR DELIVERY
SUBJECT TO AVAILABILITY
Download PDF
Blue Moon

Bud Lite

Coors Lite

Corona

Guinness

Heineken

Heineken Lite
Michelob Ultra

Michelob Lite

Odouls, Heineken 0, or Becks N/A (nonalcoholic)

Peroni Draft

Samuel Adams Seasonal Draft

Brown Joann IPA

Druthers All In IPA

Stella Artois

Fiddlehead IPA